Click HERE for more information on Pierre Toussaint
***
Click HERE for the website these excerpts are from
Pierre Toussaint, a Haitian, came with his owner, John Bérard, and Bérard's wife to New York in the 1780s. Toussaint spoke French very well. He even read and wrote and evidently had a very Catholic training. The Bérards established themselves in New York, and John Bérard sent Toussaint off to be trained as a hairdresser.
I hope Toussaint will be canonized, because it would be the canonization of someone who was a layman, a Black, a devoted husband, and a father to his niece.
Bérard went back to Haiti, where he died. He left his widow with Toussaint, who by then had a good-paying job that took him to the houses of the wealthy. He became the confidant of many of his customers. They liked him because he was French, very gentlemanly, and evidently exotic—a violinist with earrings in his ear. But this was also the guy who went to Mass every morning before he began his work.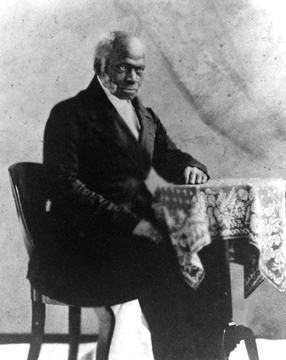 He kept Madame Bérard alive. She didn't know it, but all of the assets that her husband had were worthless and she was really living off Toussaint. At the same time he was supporting Madame Bérard, Toussaint engaged in all kinds of acts of charity. Eventually she freed him.
After Madame Bérard's death, he bought the freedom of his future wife and that of his sister, who died and left her daughter, Euphémie, whom Toussaint raised as his own. He also took in a lot of homeless Black children and taught them how to play the violin. He nursed the sick. He was admired by everyone; many of the people who kept talking about him as a saint were Protestant.
When Toussaint died, there was a tremendous funeral, and everyone agreed that he had been a terribly holy man. He was buried next to Old St. Patrick's Cathedral, where no Black people normally were buried. Toussaint practiced the gospel commands, lived an extraordinary life of religion and devotions, and helped both Black and white people at a cost to himself.
I hope Toussaint will be canonized…